With hundreds of web hosts offering feature-rich website hosting for low prices, finding a reliable web hosting service is no longer difficult.
But A2 Hosting claims to offer up to 20 times faster web hosting than other web hosts.
Is the service really that fast? More importantly, is it reliable enough to pay for?
We will go over all of A2 Hosting's features and plans and weigh out the pros and cons to find out.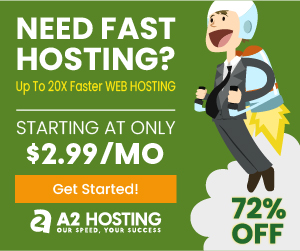 A2 Hosting Features
Excellent Uptime
A2 Hosting promises 99.9% uptime on all of their plans, which is super impressive considering the aggressive pricing.
Fast Loading Speeds
The company uses SSD-powered Turbo Servers, which enables even the biggest websites to load quickly.
Getting your website on their SwiftServer cloud hosting platform improves uptime, and since the platform works in conjunction with Cloudflare CDN, loading speeds are also improved.
24/7 Support
A2 Hosting's support team, nicknamed the Guru Crew, is available for assistance every day of the week, throughout the year.
Backups
A2 Hosting uses RAID 10 configurations to back up their clients' websites and data. They boast a quadruple redundant network, which means you'll never have to worry about losing your site or data.
Premium Developer Tools
You can opt to get your hands on the latest developer tools available for web hosting with A2 Hosting. Their servers are PHP 7 compatible, which is a huge plus.
Free SSL and SSH
The free SSL certificates ensure that your website is secure, and SSH comes pre-enabled for free, and you won't need to enable it separately.
The intuitive control panel gives you easy access to all of these features.
They offer four different plans, each with different pricing tiers.
Shared hosting plans are A2 Hosting's most affordable plans
Pricing starts at $2.99 per month, giving you access to 100GB of SSD space for one website, and free site migration features.
There are three more tiers, with hosting prices going up to $14.99 a month, that gives you access to additional features like the ability to host unlimited websites, automatic backups, website staging support, and a website builder.
Virtual Private Server hosting is right for websites that attract more traffic. A2 Hosting offers three different VPS hosting plans: Core VPS, Managed VPS, and Unmanaged VPS.
Core VPS plans start at $25/month and give you access to a managed server with root access.
Managed VPS plans also start at $25/month, but no root access is given with the managed server.
Unmanaged VPS plans are much cheaper, starting at $5/month, but you must only get these if you have previous experience with web hosting and related tools.
If you're a website designer or developer, you can get reseller hosting at $9.80/month to ensure that the website you designed loads fast.
Fast speeds do half the selling for you.
Dedicated hosting is right for enterprises looking to outsource their hosting. There are three plans: unmanaged, managed, and managed with root access.
These are the most expensive plans A2 Hosting offers, with plans starting at $99.59/month.
Pros and Cons
Pros
24/7 support
Many different plans – finding the perfect one is easy
100% carbon neutral hosting
Cons
Only two data centers – USA and UK
A tad bit more expensive than the competition
Is It 2020's Best Hosting Service?
Cheaper web hosting does exist – with Bluehost offering shared plans at $2.75/month, and Hostinger pricing their plans at $0.99/month.
However, A2 Hosting strikes the right balance between speed, features, and reliability, making it worth the slightly extra cost.
Regardless of what type of website you have, or how much traffic you attract, I can confidently recommend A2 Hosting.